Meet the team.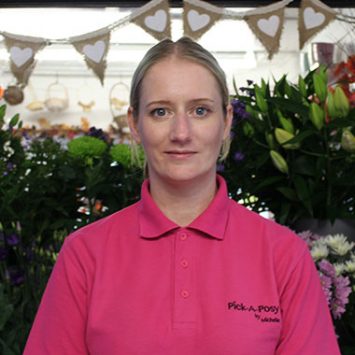 Michelle - Owner
Michelle is the owner of Pick-A-Posy, and has over 32 years of experience within the trade and is just as passionate about her craft as she was when she started at 15 years old. Michelle was offered a Saturday job on her first day of her work experience from school, and then offered an YTS placement on the second week of her placement. She began to manage a florist shop at the tender age of 17, working for a well established chain of florist shops within the Medway area in the early 1990s.
Family commitments led her path to Southampton; there she worked for large Interflora and eFlorist florist shops. Whilst there one of the business in the Southampton harbour had a great contract with a well known travel company – which ordered 70–80 arrangements per day for the cabins. She loved her time in Southampton gathering more experience.
She has been with Pick-A-Posy since 2000, and became the owner of the well-established and popular shop in 2012. After 30 years within the trade she still says….. 'I have been lucky in life to find a job where it has never felt like work' Michelle's loves all flowers but her most favourite are Green Orchids, Thelspi, Peonies, Stocks and all varieties of roses.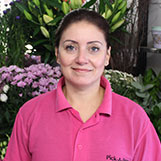 Emma
Emma is a very experienced florist. She says..I love floristry as no two days are ever the same and I'm always learning and developing skills every day. Emma's favourite flower are Hydrangeas and Stocks.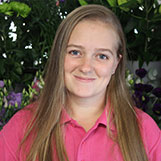 Jean
Jean is our trainee florist and is already showing good potential to be a great florist. She says..Everyday it's a challenge to create different styles of arrangements. Jean's favourite flowers are Roses and Brassica.